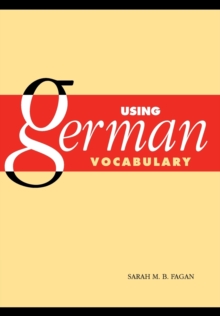 Using German vocabulary
0521797004 / 9780521797009
Usually dispatched within 4 weeks
This textbook provides a comprehensive and thematically structured vocabulary for students of German.
Designed for all but the very beginning levels of undergraduate study, it offers a broad range of vocabulary, and is divided into 20 manageable units dealing with the physical, social, cultural, economic, and political world.
The word lists are graded into three levels that reflect difficulty and likely usefulness, and are accompanied by extensive exercises and activities, designed to reinforce work done with the lists, and to increase students' competence in using the vocabulary.
Suitable for both classroom teaching and private study, the exercises also make use of authentic German texts, enabling students to work with the vocabulary in context.
Clearly organized and accessible, Using German Vocabulary is designed to meet the needs of a variety of courses at multiple stages of any undergraduate programme.
BIC: