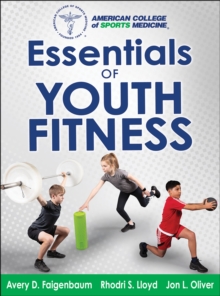 Essentials of Youth Fitness
1492525790 / 9781492525790
Usually dispatched within 4 weeks
ACSM's Essentials of Youth Fitness takes the guesswork out of training youths.
Previously, professionals have looked at children as just miniature adults.
Now you'll be armed with the tools to training young people on motor skill development, strength and power, aerobic and anaerobic development and speed and agility training. ;;Packed with case studies, coaching cues, research updates and teaching tips, the text explains how to apply the concepts of paediatric exercise science.
Integrative programme design provides you with effective programmes that maximise creativity, engagement and fun.
The text also covers issues such as the global epidemic of childhood obesity, long-term athlete development and the troubling rise of sport-related injuries in young athletes. ;;The organisation of Essentials of Youth Fitness has been designed in order to take you on a journey of learning and discovery.
The first part introduces you to the fundamental concepts of paediatric exercise science.
Part II includes chapters on the assessment of youth fitness and conducting warm-ups.
The final section presents you with a collection of chapters that cover important modern-day topics in paediatric exercise science. ;;Essentials of Youth Fitness serves as a seminal resource that you refer back to again and again.
It gives you the skills to prescribe and deliver exercise for young people.
BIC:
JFSP2 Age groups: adolescents, WSD Sports training & coaching
* Variable discounts between 0% and 15% are applied to items where BBfS cannot determine exact discounts from suppliers.