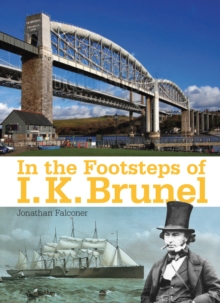 In the footsteps of I.K. Brunel
0711037981 / 9780711037984
Usually dispatched within 2 weeks
24 cm 160 pages : illustrations (black and white, and colour)
Isambard Kingdom Brunel is arguably the greatest engineer in Britain's history.
As one of the great Victorian engineers who who lay the foundations of modern Britain he is still widely celebrated.
Born two centuries ago, his legacy lives on in the extraordinary range of structures still standing, from the most familiar triumphs such as the Great Western Railway, which has been put forward as a World Heritage Site to honour its superbly engineered stations to other structures such as bridges, tunnels and viaducts, the first tunnel under the Thames from Rotherhithe to Wapping, the Clifton Suspension Bridge and the SS Great Britain now restored at Bristol.
However, numerous other smaller but fascinating structures still survive today, many of which are still in use.
Even the spectacular failures such as the gargantuan SS Great Eastern and the Atmospheric Railway in Devon have left traces in the landscape, artefacts or contemporary illustrations that the reader can rediscover. In the Footsteps of Brunel presents the life and career of Brunel, with chapters on the whole range of his construction projects, together with contemporary and present day illustrations of his lasting legacies. An extensive gazetteer of places lists where his work can still be seen today.
Recent developments in the story of Brunel's legacy are included such as the recently discovered Bishop's Bridge at Paddington, the proposal to make the Great Western Railway a UNESCO World Heritage site and the government listing of structures along the route.
The book will be illustrated with a range of memorable photographs, many in colour together with historical illustrations.
BIC:
TBX History of engineering & technology, WGF Trains & railways: general interest