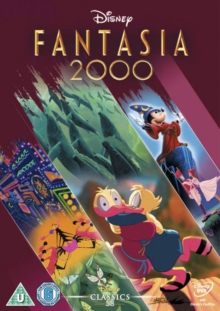 Fantasia 2000
Donald W. Ernst
,
Steve Martin
,
Itzhak Perlman
,
Quincy Jones
,
Bette Midler
,
James Earl Jones
,
Penn and Teller
,
James Levine
,
Angela Lansbury
,
Ludwig van Beethoven
,
Ottorino Respighi
,
George Gershwin
,
Dmitri Shostakovich
,
Camille Saint-Saëns
,
Paul Dukas
,
Edward Elgar
,
Igor Stravinsky
,
Walt Disney Studios
,
Mickey Mouse
English, Swedish, Norwegian, Danish, Finnish, Icelandic, Dutch, Latvian, Lithuanian, Estonian
Children's, Animated Feature
(U) Universal, suitable for all.
A semi-sequel to Disney's 1940 classic 'Fantasia' which features the original film's most famous sequence - the Mickey Mouse adventure 'The Sorcerer's Apprentice' - plus seven other all-new animated interpretations of classical music.
Highlights include the interwoven stories of a group of 1930s New Yorkers accompanied by Gershwin's 'Rhapsody in Blue', the volcanic eruptions which illustrate Stravinsky's 'Firebird Suite', and the story of Noah, his ark, and his assistant Donald Duck, played out to the strains of Elgar's 'Pomp and Circumstance'.