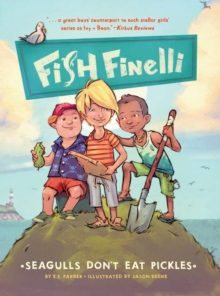 Fish Finelli (Book 1) : Seagulls Don't Eat Pickles
1452128537 / 9781452128535
153 x 202 mm, 230 grams 168 pages
When the Whooping Hollow town bully, Bryce Billings, bets Fish Finelli that he can't find Captain Kidd's treasure, Fish and his best buds Roger and T.
J. must embark on a quest to find the long-lost booty! Between sneaking into the library to track down Captain Kidd's treasure map, stowing away on a boat, and trespassing on the legendary Lyons Island, Fish and his friends are up to their necks in "goose poop" on this adventure!
This paperback edition coincides with the hardcover edition of the second book in the series.
BIC:
Title Unavailable: Out of Print