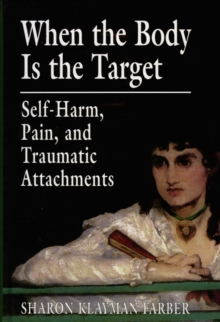 When the Body Is the Target : Self-Harm, Pain, and Traumatic Attachments
0765702568 / 9780765702562
Stock expected by 21/12/2019
162 x 238 mm, 1107 grams 580 pages
In this comprehensive and insightful work, Dr. Sharon K. Farber provides an invaluable resource for the mental health professional who is struggling to understand self-harm and its origins.
Using attachment theory to explain how addictive connections to pain and suffering develop, she discusses various kinds and functions of self-harm behavior. From eating disorders to body modifications such as tattooing, Dr. Farber explores the language of self-harm, and the translation of that language and its psychic functions in the therapeutic setting.
She tells us, 'When the body weeps tears of blood, we need to wonder what terrible sorrows cannot be spoken.' Brilliantly illustrated with rich clinical material, this book offers a practical approach to the diagnosis, assessment, and treatment of the increasing number of patients whose emotions are expressed through bodily harm.
The challenges of working with patients who tend to view the world of relationships in terms of predator and prey are clearly explicated and the stormy countertransference responses that threaten to destroy the treatment are given a full hearing.
Finally, she shows how the attachment relationship formed in treatment can repair the traumatic attachment in mind, body, psyche, and soul, and can serve as the cornerstone of therapeutic change.
A Jason Aronson Book
BIC:
JMP Abnormal psychology, MMJT Psychotherapy, MMZ Therapy & therapeutics