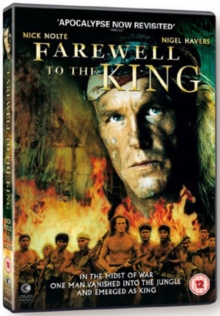 War drama in which a US deserter is taken in by a Borneo jungle tribe only to find that the tribe are threatened by his country's enemies as well.
Learoyd (Nick Nolte) is sent to fight the Japanese in tough jungle conditions and deserts, only to end up in a POW camp anyway.
Narrowly escaping death at the hands of a firing squad, he flees into the Borneo jungle where he is taken in by a tribe of natives called the Dayaks.
The Dayaks grow to worship Learoyd due to certain physical characteristics they perceive as holy, and he is anointed king.
When a British officer (Nigel Havers) seeks out this 'King' for help in defeating the Japanese, Learoyd remains reluctant to fight.
However, as the relationship between the men grows stronger and the Japanese begin to threaten the Dayaks, Learoyd's warlike qualities come to the fore...