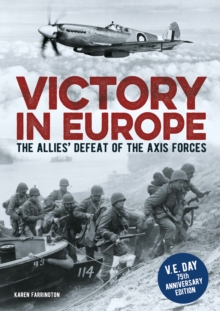 Victory in Europe
1839402695 / 9781839402692
26 cm 144 pages : illustrations (black and white, and colour), maps
Reprint. Originally published: 2005.
Operation Overlord was one of the greatest ever military offensives, working to free Europe from the yoke of Nazism.
Starting with the landings on D-Day, Victory in Europe traces the Allied struggle to create a foothold in "Fortress Europe".
Overcoming initial setbacks, the final crossing of the Rhine and the advance into Germany changed the course of European history forever.
This gripping story is told from the perspective of the service men at the centre of the operation, and how their bravery and doggedness made the defeat of Hitler's hordes possible. Illustrated with over 100 black and white photos and maps, Victory in Europe is a thrilling read on the final offensive push against Adolf Hitler. Features:* Normandy landings* The liberation of Paris* Battle of the Bulge* The fall of Berlin* VE Day
BIC:
3JJH c 1939 to c 1945 (including WW2), HBJD European history, HBWQ Second World War