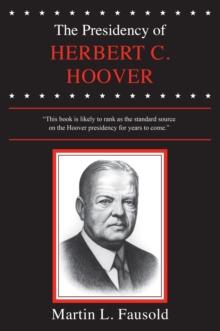 The Presidency of Herbert Hoover
0700603581 / 9780700603589
Usually dispatched within 2 weeks
Few presidents have been subjected to such a wide range of interpretation as has Herbert Hoover, from hero to villain, from genius to naif.
Fausold meets the daunting challenge of assessing the Hoover presidency by focusing on the to most basic questions: first, whether the Hoover presidency advanced the country toward the goals outlined in his Inaugural Address--justice, ordered liberty, equality of opportunity, individual initiative, freedom of opinion, integrity in government, peace, growth of religious spirit, and strengthening of the home--and, second, whether Hoover attacked the causes of the depression--international, cyclical, sectoral, fiscal, and monetary.
Making use of extensive primary sources beyond the Hoover Library, Fausold argues that Herbert Hoover was what Walter Lippmann said a president should be, a custodian of a nation's ideals, and that Hoover fought the causes of the depression with vigor and imagination.
Nevertheless, on election day in 1932, Hoover was turned out of office in a landslide, carrying only six eastern states.
From his defeat of Alfred E. Smith in 1928 to his trouncing by FDR four years later, Hoover's presidential years are detailed here: the stock-market crash, which happened eight months after Hoover took office; the ever-deepening depression; tariff legislation; Hoover's farm policy and foreign policy; and his pursuit of the twin goals of prosperity and freedom.
This volume discusses in detail the relationship of the Hoover presidency to capital and labor, showing that Hoover's farm policies provide the best illustration of his corporatist formulas.
Fausold reverses simplistic conclusions about the Stimson Doctrine, arguing that Hoover's Quaker pacifism, the Great Depression, and the forcefulness of Secretary of State Henry L.
Stimson affected Hoover's foreign policy far less than has been presumed.
Finally, Fausold details the disastrous events of the 1932 reelection campaign, punctuated by the march of the Bonus Army on Washington and culminating in Hoover's decisive defeat.
Fausold views the Hoover presidency as the logical transition from progressivism to the New Deal, calling it both the last of the old and the first of the new presidencies.
The important question about Hoover, Fausold argues, is not why the people refused to reelect him, but why the reversal of his nation's image of him was so overwhelming and has been so long-lasting.
Despite three arguments in defense of the administration--that its goals and antidepression efforts were in many respects without precedent; that it was surely as much a failure of American capital as of presidential leadership; and that probably no American elected in 1928 could have survived the nation's greatest depression--Fausold points to two factors that were paramount in spelling the misfortunes of Hoover's presidency: his unalterable commitment to ordered freedom as a canopy for solutions to the depression, and his firm rejection of any kind of an accommodation with the New Deal.
BIC:
3JJG c 1918 to c 1939 (Inter-war period), HBJK History of the Americas, HBLW 20th century history: c 1900 to c 2000