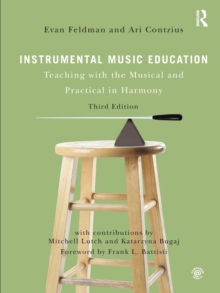 Instrumental music education : teaching with the musical and practical in harmony (Third edition)
036713814X / 9780367138141
490 pages : illustrations (black and white)
Instrumental Music Education: Teaching with the Musical and Practical in Harmony, Third Edition, is intended for college instrumental music education majors studying to be band and orchestra directors at the elementary, middle school, and high school levels.
This textbook presents a research-based look at the topics vital to running a successful instrumental music program, while balancing musical, theoretical, and practical approaches.
A central theme is the compelling parallel between language and music, including "sound-to-symbol" pedagogies.
Understanding this connection improves the teaching of melody, rhythm, composition, and improvisation.
The companion website contains over 120 pedagogy videos for wind, string, and percussion instru ments performed by professional players and teachers, over 50 rehearsal videos, rhythm flashcards, and two additional chapters: "The Rehearsal Toolkit" and ''Job Search and Interview." It also includes over 50 tracks of acoustically pure drones and demonstration exercises for use in rehearsals, sectionals, and lessons. New to this edition:A new chapter on teaching beginning band using sound-to-symbol pedagogiesExpanded coverage for strings and orchestra, including a new chapter on teaching beginning stringsA new chapter on conducting techniqueExpanded material on teaching students with disabilitiesConcert etiquette and the concert experienceExpanded coverage on the science of learning, including the Dunning-Krueger effect and the effective use of repetition in rehearsalTechniques for improving students' practice habits
BIC: