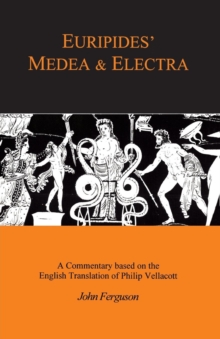 Euripides Medea & Electra : a commentary based on the English translation of Philip Vellacott
0862922682 / 9780862922689
Usually dispatched within 4 weeks
postgraduate Learn More
research & professional
undergraduate
Reprint. Originally published: 1987.
Euripides was particularly noted for his sensitive portrayals of women and for finding a sympathetic side to those whom the stock mythology tended to see as evil monsters, such as Helen of Troy.
Medea murdered her children by Jason when he deserted her fora new wife; Electra and Orestes killed their own mother in revenge for her betrayal and murder of their father Agamemnon.
This kind of searing tragedy may easily be read in translation but its appreciation inevitably involves conventions and references which may elude the reader. This volume contains an introduction outlining the background of Athenian tragedy: how it was presented; what was its fifth-century social and political context; how were these two particular plays conceived and constructed?
This is followed by a line-by line commentary based on the translation of Philip Vellacott (Penguin Classics), though it may be used profitably with other versions as well.
BIC:
2AHA Ancient (Classical) Greek, DD Plays, playscripts, DSBB Literary studies: classical, early & medieval, DSG Literary studies: plays & playwrights