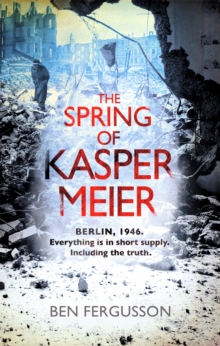 The spring of Kasper Meier
0349139768 / 9780349139760
Stock expected by 16/04/2021
Reprint. Originally published: London: Little, Brown, 2014.
Fergusson has already won two awards for this gripping and atmospheric debut, a thriller set amid the rubble of a defeated Berlin in 1945...Original and highly accomplished' Sunday TimesShortlisted for the Sunday Times Young Writer of the Year Award 2015Berlin, 1946.
Everything is in short supply. Including the truth. The war is over, but Berlin is a desolate sea of rubble.
There is a shortage of everything: food, clothing, tobacco.
The local population is scrabbling to get by. Kasper Meier is one of these Germans, and his solution is to trade on the black market to feed himself and his elderly father.
He can find anything that people need, for the right price.
When a young woman, Eva, arrives at Kasper's door seeking the whereabouts of a British pilot, he feels a reluctant sympathy for her but won't interfere in military affairs.
But Eva knows Kasper has secrets, and she'll use them to get what she wants.
As a net of deceit, lies and betrayal falls around him, Kasper begins to understand that the seemingly random killings of members of the occupying forces are connected to his own situation.
He must work out who is behind Eva's demands, and why... A gripping literary thriller that will captivate fans of Joseph Kanon and Hans Fallada.
Readers are saying:'A remarkable, dark, deep and disturbing novel''Brilliantly realised both in the evocation of Berlin and in the story line.
Both poignant and thrilling''What an amazing book - I was engrossed''A terrific novel.
Thoughtful, powerful writing serving an original and compelling plot''Utterly enthralling'
BIC: