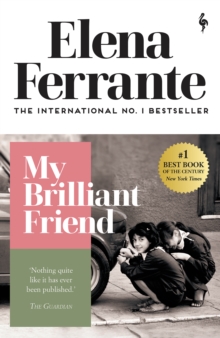 My brilliant friend
1787702227 / 9781787702226
OVER 5 MILLION COPIES SOLD IN ENGLISH WORLDWIDEOVER 1 MILLION COPIES SOLD IN THE UK14 MILLION COPIES SOLD WORLDWIDENOW A MAJOR TV SERIESGUARDIAN 100 BEST BOOKS OF THE 21st CENTURY58 WEEKS ON THE BOOKSELLER'S TOP 20 ORIGINAL FICTION BESTSELLERS LISTSHORTLISTED FOR WATERSTONES BOOK OF THE YEAR 201543 INTERNATIONAL RIGHTS DEALSNow in B-format PaperbackFrom one of Italy's most acclaimed authors, comes this ravishing and generous-hearted novel about a friendship that lasts a lifetime.
The story of Elena and Lila begins in the 1950s in a poor but vibrant neighbourhood on the outskirts of Naples.
Growing up on these tough streets the two girls learn to rely on each other ahead of anyone or anything else, as their friendship, beautifully and meticulously rendered, becomes a not always perfect shelter from hardship.
Ferrante has created a memorable portrait of two women, but My Brilliant Friend is also the story of a nation.
Through the lives of Elena and Lila, Ferrante gives her readers the story of a city and a country undergoing momentous change. "Nothing quite like it has ever been published."-Guardian"Elena Ferrante has established herself as the foremost writer in Italy-and the world."-The Sunday Times"This is high stakes, subversive literature."-The Telegraph
BIC: