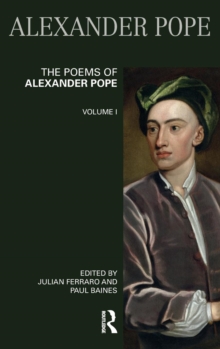 The poems of Alexander PopeVolume one
0582423414 / 9780582423411
The Poems of Alexander Pope is a multi-volume edition of the poetry of Alexander Pope (1688-1744) resulting from a thorough reappraisal of his work, from composition through to reception.
The annotations and headnotes are full and informative, and the layout is designed to enable the reader to navigate easily between the poems, the record of variants and the editorial commentary.
The poems are presented in chronological order of publication, with original capitalisation, italicisation, punctuation and spelling preserved.
A record of variants to each poem illustrates the changes Pope made in subsequent editions, and full editorial annotation sets the poems in appropriate literary, historical and cultural contexts.
This volume contains the poetry that appeared between 1709 and 1714, including the Pastorals and the `Rape of the Locke'.
Much of the publication history of these poems shows Pope collaborating with the major writers and publishers of his time, as might be expected of a writer whose preparation for a literary career was so meticulous.
But Pope was also beginning to establish himself on his own account, publishing (at first anonymously) a substantial statement of ideas, An Essay on Criticism.
Another separate pamphlet, Windsor-Forest, constituted his distinctive contribution to the heavy freight of `Peace' poems prompted by the Treaty of Utrecht.
In all, the poems presented in this volume reveal an engagement with the literary and publishing industry that is at once amenable and independent.
BIC: