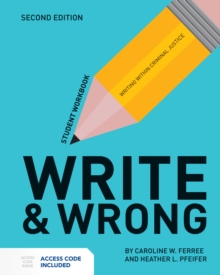 Write & Wrong (2 Revised edition)
1284112993 / 9781284112993
Stock expected by 04/04/2020
Written reports and other types of writings by criminal justice and social science professionals can directly affect people's lives.
Thus, it is crucial for the writer to effectively convey his or her message in a coherent and organized manner.
Write & Wrong: Writing Within Criminal Justice Student Workbook is a comprehensive workbook that guides students through the entire process of writing an academic-style paper, by teaching them how to conduct library research, how to take notes without plagiarizing, how to cite in proper APA style, and how to complete a final draft of a paper.
The Student Workbook includes hands-on writing exercises and reference guides to further help improve the students' writing skills.
The Second Edition also helps students prepare for entering the job market, by discussing how to write a professional resume and cover letter, how to prepare PowerPoint presentations, and how to write a variety of professional reports.
BIC:
2AB English, CBW Writing & editing guides, JKV Crime & criminology