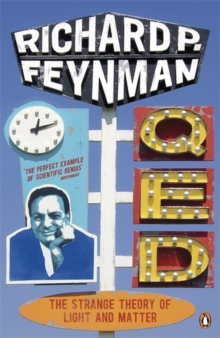 QED : the strange theory of light and matter
0140125051 / 9780140125054
Reprint. Originally published: Princeton, N.J.: Princeton University Press, 1985.
Quantum electrodynamics - or QED for short - is the 'strange theory' that explains how light and electrons interact.
Thanks to Richard Feynman, it is also one of the rare parts of physics that is known for sure.
In this lucid set of lectures, Feynman provides the definitive introduction to QED. 'It is a book to enlighten' - "Mail on Sunday". 'Marvellous...a vivid introduction to QED leavened and enlivened by his wit.
Anyone with a curiosity about physics today should buy it' - "Nature".
BIC:
PHQ Quantum physics (quantum mechanics & quantum field theory)