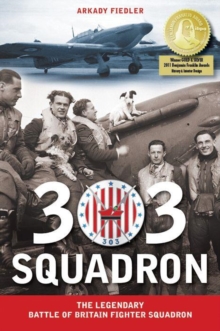 303 squadron : the legendary Battle of Britain fighter squadron
1607720051 / 9781607720058
The summer of 1940 and the Battle of Britainthe darkestdays of World War II.
France, Poland, Denmark, Belgium, the Netherlands,Luxembourg and Norway had all been crushed by the powerful Nazi German warmachine.
Great Britain stood alone, fighting for its life. 303 Squadron is the thrilling storyof the celebrated squadron of Polish fighter pilots whose superb skill in theair helped save England during its most desperate hours.
They were thehighest-scoring Allied fighter squadron in the Battle of Britain, downing threetimes the average RAF score while incurring only one-third the averagecasualties.
Dashing and gallant 303 Squadron was lionized by the British press,congratulated by the King, and adored by the British public. With an immediacy that vividly brings to life those harrowing days, Fiedlerpaints the bravery, the poignancy, the breathtaking gambles with death riskeddaily by this exceptional group of young men far from home, who fought topreserve freedom for all. Had it not been for the magnificent material contributed by the Polishsquadrons and their unsurpassed gallantry, I hesitate to say that the outcomeof the battle would have been the same."British Air Chief Marshal Sir Hugh Dowding Translated from the Polish; identifies the pilots by their real names for thefirst time in English.
Nearly 200 black & white photos, maps andillustrations; contextualizing historical material; nine appendices.
Selection of the History Book Club and theMilitary Book Club. Winner: GOLD Award for History, 2011 Benjamin Franklin Awards SILVER Award for Interior Design, 2011 Benjamin Franklin Awards Normal 0 false false false EN-US X-NONE X-NONE
BIC:
1DBK United Kingdom, Great Britain, 3JJH c 1939 to c 1945 (including WW2), HBJD1 British & Irish history, HBLW 20th century history: c 1900 to c 2000, HBWQ Second World War