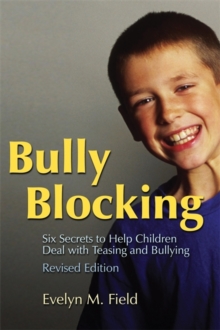 Bully blocking : six secrets to help children deal with teasing and bullying (Rev. ed)
1843105543 / 9781843105541
Previous ed.: published as Bullybusting. Sydney, N.S.W.: Finch, 1999.
This confidence-boosting book aims to help children overcome the damaging effects of teasing and bullying, and to develop practical skills and attitudes to improve their self-esteem and quality of life.
This second edition of "Bully Blocking" (originally published under the title "Bully Busting") is based on Evelyn Field's 'Secrets of relating', a six-step model that has proved highly successful in her counselling work with young people.
The first part of the book helps parents understand what happens when their children are bullied and provides useful approaches for changing the attitude of children who may feel there is no hope.
The second part provides a programme of activities with an emphasis of fun, helping children to understand their feeling and develop effective methods of counteracting bullying situations, including improving self-esteem, building support networks and communicating confidently.
This book will be an invaluable resource for parents, teachers, educators and counsellors working with children at risk of or experiencing bullying.
BIC:
JKSN2 Counselling & advice services, YXC Personal & social issues: bullying, violence & abuse (Children's / Teenage)