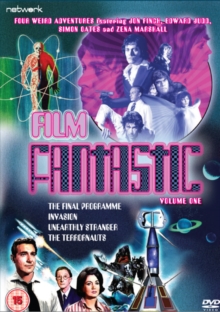 Films Fantastic: Volume 1
John Goldstone
,
Sandy Lieberson
,
Robert Fuest
,
Paul Beaver
,
Bernard Krause
,
Norman Warwick
,
Jack Greenwood
,
Robert Holmes
,
Roger Marshall
,
Bernard Ebbinghouse
,
James Wilson
,
Albert Fennell
,
Rex Carlton
,
Edward Williams
,
Reginald H. Wyer
,
Max Rosenberg
,
Milton Subotsky
,
John Brunner
,
Elisabeth Lutyens
,
Geoffrey Faithfull
(15) Suitable for 15 years and over.
Collection of British sci-fi thrillers. In 'The Final Programme' (1973) with Earth and mankind in a state of disarray, drastic remedies are sought by scientists to restore some balance to life.
The best hope appears to be a scientific formula known as 'The Final Programme', devised by the late father of wealthy scientist Jerry Cornelius (Jon Finch), which can create an advanced and immortal human that will hopefully be able to avoid the mistakes made by its less perfect forefathers.
Unfortunately for Jerry, the microfilm containing the formula is in the possession of his obnoxious brother Frank (Derrick O'Connor).
Can Jerry and the formidable scientist who partners up with him, Miss Brunner (Jenny Runacre), retrieve the formula and set the plan in motion?
In 'Invasion' (1966), after a traffic accident victim's blood is found to be unidentifiable, hospital staff are shocked to hear his claims that he is an escaped prisoner of an alien spaceship.
However, his outlandish claims appear less shocking when a spaceship crash lands near the hospital and a force field mysteriously appears around the building.
Dr Mike Vernon (Edward Judd), who is caring for the patient, vows to protect him from the invaders, but the aliens are eager to hunt down their escapee before he betrays their valuable intelligence secrets to the humans.
In 'The Unearthly Stranger' (1964), after government scientist Dr Mark Davidson (John Neville) marries a mysterious woman (Gabriella Licudi), he is forced to reassess his initial judgement when his new wife starts exhibiting some strange behaviour.
At work Davidson begins working on a secret formula that saw his predecessor die under mysterious circumstances and begins to expect that his wife may somehow be involved.
When she reveals she is actually a visitor from another planet, the couple's love for each other is put to the ultimate test, placing both of their lives in immediate danger from both the government and an invading alien army.
Finally, in 'The Terrornauts' (1967), scientist Joe Burke (Simon Oates) and his team, which also includes Sandy Lund (Zena Marshall) and Ben Keller (Stanley Meadows), have been having little success detecting signs of life on other planets from their radio telescope laboratory.
Indeed, so little have they gained from the enterprise that auditor Joshua Yellowlees (Charles Hawtrey) arrives at the facility with every intention of closing them down.
However, one fateful night the scientists finally make contact and abruptly find themselves teleported to an asteroid which might just be the beginning of an unexpected adventure...