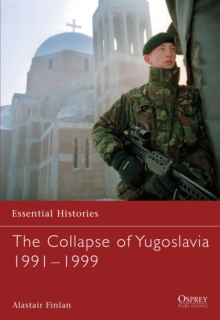 The collapse of Yugoslavia, 1991-99
1841768057 / 9781841768052
Stock expected by 28/11/2019
25 cm 95 p. : ill. (some col.)
In 1991, almost overnight, an ethnically diverse region that had enjoyed decades of peaceful coexistence descended into bitter hatred and chaos.
Communities fractured along lines of ethnic and religious affiliation and the resulting fighting was deeply personal, resulting in brutality, rape and torture, and ultimately the deaths of more than 250,000 people.
This book examines the internal upheavals and their international implications, including the failure of the Vance-Owen plan; the first use of NATO in a combat role and in peace enforcement; and the war in Kosovo, unsanctioned by the UN but prosecuted by NATO forces to prevent the ethnic cleansing of Kosovo.
BIC:
1DVWY Yugoslavia & former Yugoslavia, 3JJPR c 1990 to c 2000, HBJD European history, HBLW3 Postwar 20th century history, from c 1945 to c 2000