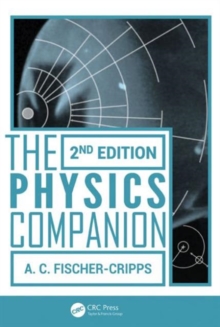 The physics companion (Second edition)
1466517794 / 9781466517790
Usually dispatched within 4 weeks
23 cm 568 pages : illustrations (black and white)
Get Up to Speed on PhysicsUpdated and expanded with new topics, The Physics Companion, 2nd Edition offers a unique and educational approach to learning physics at a level suitable for first-year science students.
This new edition expands the presentation to include senior topics, such as statistical mechanics, quantum physics, and nuclear physics.
A Convenient, Student-Friendly Format Rich with Diagrams and Clear ExplanationsThis useful book serves students from the beginning of their studies to well into their future careers.
It provides detailed graphics, simple and clear explanations of difficult concepts, and annotated mathematical treatments in a one-page-per-topic format that is the signature style of the author's companion books. Be sure to check out the author's other companion books:The Mathematics Companion: Mathematical Methods for Physicists and Engineers, 2nd EditionThe Materials Physics Companion, 2nd EditionThe Electronics Companion: Devices and Circuits for Physicists and Engineers, 2nd EditionThe Chemistry Companion
BIC: