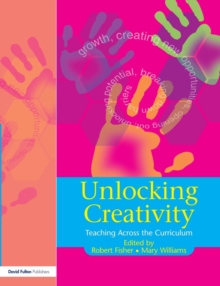 Unlocking creativity : teaching across the curriculum
1843120925 / 9781843120926
Usually dispatched within 2 weeks
research & professional Learn More
academic/professional/technical
Promoting creativity can be a powerful way of engaging children in their learning.
Showing how creativity can be developed across the curriculum, this book offers advice on how to: develop children's capacity for creative thinking and achievement; use creativity to increase levels of motivation and self-esteem; and teach the creative skills pupils need for success in learning and life.
Combining research with practical ideas and tasks, this multi-dimensional book is for teachers, students and educators who wish to know more about creativity in teaching and learning.
BIC: