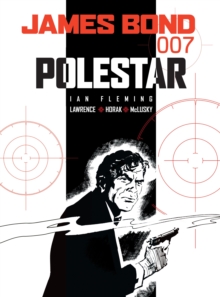 Polestar
1845767179 / 9781845767174
30 cm ca. 120 p. : chiefly ill.
Contents: Flittermouse - Polestar - The scent of danger - Snake goddess - Double eagle.
The legend continues! Stand by for more adventures with the world's greatest and most famous secret agent, James Bond, as some of his most thrilling missions are collected for the first time ever in a deluxe collectors' library edition!This bumper action-packed volume collects ultra rare Bond stories that have not been seen since their original syndication: "Flittermouse", "The Scent of Danger", "Snake Goddess", "Double Eagle" and "Polestar"!Plus a new introduction by Bond girl Valerie Leon ("The Spy Who Loved Me"), features on Ian Fleming's home "GoldenEye" and a look at the rarely seen "Bond Zig Zag" comics series, this latest explosive volume is not to be missed!
BIC: