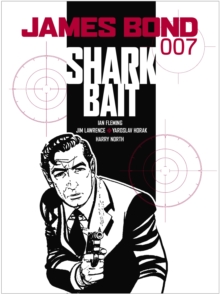 Shark bait
1845765915 / 9781845765910
30 cm ca. 128 p. : chiefly ill.
Contents: The Xanadu connection - Shark bait - Doomcrack.
The legend continues! Stand by for more adventures with the world's greatest secret agent, as some of his most thrilling missions are collected for the first time ever!"Shark Bait", a story never before published in the UK, sees 007 facing off against a new nemesis...and a sea of hungry sharks!
When a routine recon mission is interupted by an underwater attack by the gorgeous Katya Orlova, a Russian spy with a vendetta against MI-6, Bond is left with only one choice: kill or be killed!This new, never-before-collected edition also includes Doomcrack and another, never-before-seen in the UK story, "The Xanadu Connection"!
Plus a new introduction by Caroline Bliss, a.k.a. Ms Moneypenny and an exclusive feature on James Bond US comics!
BIC: