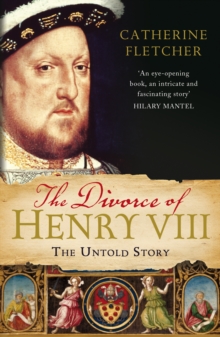 The divorce of Henry VIII : the untold story
0099554895 / 9780099554899
20 cm xx, 268 pages, 16 unnumbered pages of plates : illustrations (black and white), maps (black and whi
Reprint. Originally published: as Our man in Rome. London: The Bodley Head, 2012.
'An eye-opening book, an intricate and fascinating story' Hilary Mantel1527.
Henry, desperate to marry Anne Boleyn and ensure the Tudor line asks Pope Clement VII to grant him a divorce.
Enter Gregorio Casali, an Italian diplomat hired to represent Henry's interests in the Vatican.
Through six years of persuasion, threats and bribery Casali lives by his wits, playing off one powerful patron against another, negotiating with ambassadors from Spain, France and beyond, each crowding the Vatican to press their interests in the Tudor break up.
Before it is done, Henry will decide to divorce not just Catherine, but the Church itself.
Set against the backdrop of war-torn Renaissance Italy, The Divorce of Henry VIII combines a gripping family saga with a highly charged political battle between the Tudors and the Vatican to reveal the extraordinary true story behind history's most infamous divorce. (Originally published with the title Our Man in Rome)
BIC:
1DBKE England, 3JB c 1500 to c 1600, HBJD1 British & Irish history, HBLH Early modern history: c 1450/1500 to c 1700