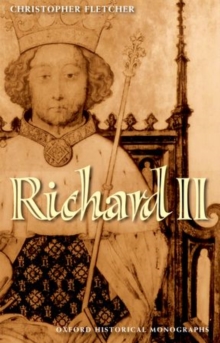 Richard II : manhood, youth, and politics, 1377-99
0199595712 / 9780199595716
Usually dispatched within 4 weeks
Tertiary Education (US: College) Learn More
Postgraduate, Research & Scholarly
Undergraduate
Reprint. Originally published: 2008.
Richard II (1377-99) has long suffered from an unusually unmanly reputation.
Over the centuries, he has been habitually associated with lavish courtly expenditure, absolutist ideas, Francophile tendencies, and a love of peace, all of which have been linked to the king's physical effeminacy.
Even sympathetic accounts have essentially retained this picture, merely dismissing particular facets of it, or representing Richard's reputation as evidence of praiseworthydissent from accepted norms of masculinity. Christopher Fletcher takes a radically different approach, setting the politics of Richard II's reign firmly in the context of late medieval assumptions about the nature of manhood and youth.
This makes it possible not only to understand the agenda of the king's critics, but also to suggest a new account of his actions.
Far from being the effeminate tyrant of historical imagination, Richard was a typical young nobleman, trying to establish his manhood, and hence his authority to rule, bythoroughly conventional means; first through a military campaign, and then, fatally, through violent revenge against those who attempted to restrain him. The failure of Richard's subjects to support this aspiration produced a sequence of conflicts with the king, in which his opponents found it convenient to ascribe to him the conventional faults of youth.
These critiques derived their force not from the king's real personality, but from the fit between certain contemporary assumptions about youth, effeminacy, and masculinity on the one hand, and the actions of Richard's government, constrained by difficult and complex circumstances, on theother.
BIC:
1DBK United Kingdom, Great Britain, 3H c 1000 CE to c 1500, BGR Biography: royalty, HBJD1 British & Irish history