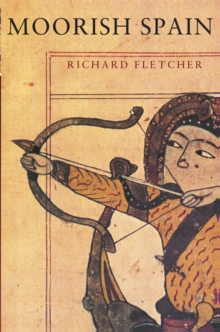 Moorish Spain
1842126059 / 9781842126059
24 cm xii, 183p., [16]p. of plates : ill.
Reprint. Originally published: London: Weidenfeld & Nicolson, 1992.
Prize-winning author The Quest for El Cid won the Wolfson Literary Award for History and the Los Angeles Times Book Prize
Written in the same tradition as John Julius Norwich's engrossing accounts of Venice and Byzantium, Richard Fletcher's Moorish Spain entertains even as it enlightens.
He tells the story of a vital period in Spanish history which transformed the culture and society, not only of Spain, but of the rest of Europe as well.
Moorish influence transformed the architecture, art, literature and learning and Fletcher combines this analysis with a crisp account of the wars, politics and sociological changes of the time. 'Richard Fletcher makes a winding and wonderfully evocative journey through Spanish history...His mastery of his sources is hardly less remarkable than his vivid, almost physical grasp of the Spain he describes' The Economist
BIC:
1DSE Spain, ACK History of art: Byzantine & Medieval art c 500 CE to c 1400, AM Architecture, HBJD European history, HBLC Early history: c 500 to c 1450/1500, JFC Cultural studies, JFSR2 Islamic studies