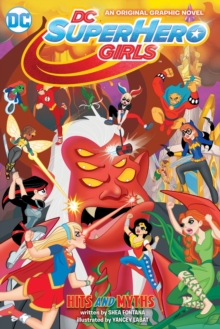 Hits and myths
1401267610 / 9781401267612
23 cm 125 pages : chiefly illustrations (colour)
Welcome back to DC Super Hero High! In the newest original graphicnovel from the DC Super Hero Girls line, catch up with the students of SuperheroHigh School as they find out that fun, friendship and hard work are all parts ofgrowing up!
DC SUPER HERO GIRLS: HITS AND MYTHS continues to develop therelationships forged in DC SUPER HERO GIRLS: FINALS CRISIS.
Written by SheaFontana, this story is perfect for girls 6-12.
The DC Super Hero Girls is anexciting new universe of Super Heroic storytelling that helps build characterand confidence, and empowers girls to discover their true potential.
Developedfor girls aged 6-12, DC Super Hero Girls features DC Comics' most powerful anddiverse line-up of female characters as relatable teens, playing out acrossmultiple entertainment content platforms and product categories to create animmersive world.
Icons including Wonder Woman, Supergirl, Batgirl, Harley Quinn,Bumble Bee, Poison Ivy, Katana and many more make their unprecedented teenagedintroduction, as each character has her own storyline that explores what teenlife is like as a Super Hero.
BIC:
YFW Comic strip fiction / graphic novels (Children's / Teenage)