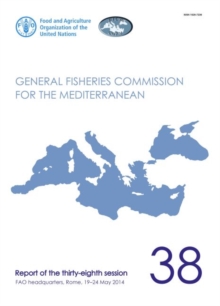 Report of the thirty-eighth session of the General Fisheries Commission for the Mediterranean : FAO Headquarters, Rome, Italy, 19-24 May 2014
9251085625 / 9789251085622
This session was the occasion to discuss the fight against illegal, unreported and unregulated (IUU) fishing though the adoption of guidelines relating to vessels monitoring systems (VMS), a roadmap to fight IUU fishing in the Mediterranean Sea and a GFCM IUU vessel list to be widely disseminated, as well as to provide recommendations concerning the identification of noncompliance with GFCM decisions by both Members and non-Members. The Commission endorsed guidelines for the management of Mediterranean red coral populations, practical guidelines for artificial reefs in the Mediterranean and Black Sea and a new GFCM Data Collection Reference Framework (DCRF).
It also supported the launch of the first regional cooperative programme for the promotion of sustainable small-scale fisheries.
Ambitious goals based on principles such as the sub-regional approach, multiannual management and stakeholder involvement were set. This report gives an account of these and other points discussed during the meeting, which was attended by representatives from 22 Members, 3 non-Members, and 15 intergovernmental and non-governmental organizations.
BIC:
1QSM Mediterranean Sea, KNAF Fisheries & related industries, PSPM Marine biology, TVT Aquaculture & fish-farming: practice & techniques