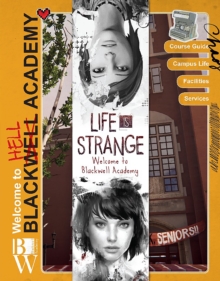 Life is Strange : Welcome to Blackwell Academy
1785659359 / 9781785659355
Welcome to Blackwell Academy is an in-universe book from the Life is Strange video game franchise from Dontnod Entertainment and Square Enix.
This detailed book takes the form of a student guide to Blackwell Academy and the town of Arcadia Bay.
Overlaid onto the pages is graffiti: notes, doodles, sketches and photographs from the Blackwell students themselves, including contributions from the beloved protagonists Max and Chloe. Welcome to Blackwell Academy includes information on the staff and facilities of Blackwell Academy, the people and locations of Arcadia Bay, overlaid with funny, irreverent and poignant comments from the students.
BIC: