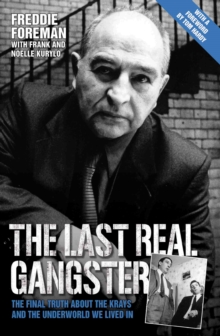 The last real gangster : the final truth about the Krays and the underworld we lived in
1784184179 / 9781784184179
24 cm xiv, 210 pages : illustrations (black and white)
For over fifty years, Freddie Foreman's name has commanded respect, and occasionally fear, from those who work to uphold the law - and those who operate just outside of it.
With almost all of his compatriots - like the notorious Kray twins - now gone, Freddie is truly The Last Real Gangster.
A true entrepreneur and businessman, Freddie was one of the great personalities of the criminal underworld.
A man of principle, protective of his family and unfailingly loyal to his friends, Freddie was someone who could be relied upon with complete confidence in all circumstances.
Together with co-authors Frank and Noelle Kurylo - who have themselves been intimately involved in the underworld for a number of decades - as well as dozens of previously unpublished photographs, The Last Real Gangster contains the musings and reminiscences of someone who truly was there and really did see it all.
Including a detailed look at the life of the Kray twins, alongside dozens of other recognisable 'Faces', this book is the no-holds-barred story of Freddie's life and the exciting and glamorous world in which they lived.
BIC:
1DBK United Kingdom, Great Britain, 3JJPG c 1945 to c 1960, 3JJPK c 1960 to c 1970, BTC True crime