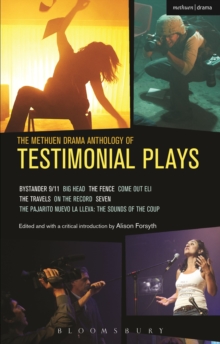 The Methuen drama anthology of testimonial plays
1408176521 / 9781408176528
Usually dispatched within 4 weeks
22 cm 400 pages : illustrations (black and white)
This diverse anthology features eight contemporary plays founded in testimonies from across the world.
Showcasing challenging and provocative works of theatre, the collection also provides a clear insight into the workings of the genre through author interviews, introductions from the companies and performance images which illustrate the process of creating each piece. Bystander 9/11 by Meron Langsner is an impressionistic but wholly authentic response to the catastrophe as it unfolded and in the days following. Big Head by Denise Uyehara is an interrogation of current perceptions of "the enemy now" as seen through the lens of Japanese American internment during World War II. Urban Theatre Projects' The Fence is a tale of love, belonging and healing.
It is a tender work that looks at the adult lives of five family and friends who spent their childhoods in orphanages, institutions and foster homes in Australia. Come Out Eli: Christmas 2002 in Hackney, London, saw the longest siege in British history.
Using interviews collected at the time and further material gathered in the aftermath, Alecky Blythe's play explores the impact of the siege on the lives of individuals and the community. The Travels: members of Forced Entertainment undertook a series of journeys during one summer, each travelling alone to locations in the UK to complete tasks determined only partially in advance.
This began a mapping process and the creation of a landscape of ideas, narratives and bad dreams. On the Record by Christine Bacon and Noah Birksted-Breen circumnavigates the globe to bring true stories from six independent journalists, all linked by their determination to shed light on the truth. Created by Paula Cizmar, Catherine Filloux, Gail Kriegel, Carol K.
Mack, Ruth Margraff, Anna Deavere Smith and Susan Yankowitz, Seven is based on personal interviews with seven women who have triumphed over huge obstacles to catalyse major changes in human rights in their home countries of Russia, Pakistan, Nigeria, Northern Ireland, Afghanistan, Guatemala and Cambodia. Pajarito Nuevo la Lleva: The Sounds of the Coup by Maria Jose Contreras Lorenzini focuses upon sense memories of witnesses who were children at the time of the 1974 military coup in Chile.
BIC: