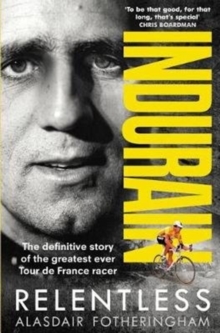 1785032046 / 9781785032042
Usually dispatched within 4 weeks
Miguel Indurain is Spain's greatest cyclist of all time.
He is the only bike rider to have won five successive Tours de France, as well as holding the title for the youngest ever race leader in the Tour of Spain.
This is his story. As the all-conquering hero of the 90s, Indurain steadfastly refused to be overwhelmed by fame; remaining true to his country roots.
Along with his superhuman calmness, iron will-power and superb bike handling skills, he was often described as a machine.
Yet 1996 saw Indurain, the Tour's greatest champion, spectacularly plummet, bringing his career to an abrupt end. In Indurain, Alasdair Fotheringham gets to the heart of this enigmatic character, reliving his historic accomplishments in vivid detail, and exploring how this shaped the direction of Spanish cycling.
Alasdair has interviewed family, teammates, coaches and rivals, including Pedro Delgado, Prudencio Indurain and Manolo Saiz to create the definitive account of Indurain's career.
BIC: