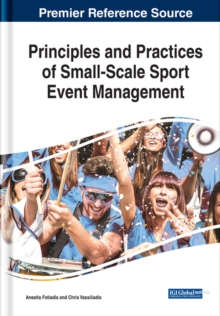 Principles and practices of small-scale sport event management
1799847578 / 9781799847571
Stock expected by 18/06/2020
Although there is significant research on large events that take place within athletics, small-scale events are largely ignored, in part due to the lack of press that they generate.
However, these events require planning and preparation in the same way that larger sporting events do.
This disparity between the effort that goes into the event and the attention the event draws allows for a gap in strategy or information available to those planning smaller scale athletic events.
Principles and Practices of Small-Scale Sport Event Management is a cutting-edge reference publication that examines the successful organization and planning of small-scale sporting events.
Featuring a wide range of topics such as community engagement, event planning, and sports management, this book is ideal for event planners, sports managers, marketers, academicians, practitioners, industry professionals, researchers, event organizers/coordinators, and students.
BIC:
GBC Reference works, KFFN Insurance & actuarial studies, KNS Service industries, KNSJ Events management industries