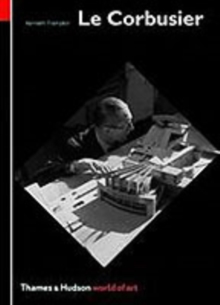 0500203415 / 9780500203415
Stock expected by 30/04/2021
general Learn More
research & professional
academic/professional/technical
Le Corbusier's ideas and works constitute the greatest single influence in the development of architecture in the 20th century.
His passionately expressed philosophy has had an enormous effect on the urban fabric and the way we live.
Weaving through his long and prolific life are certain recurrent themes - his perennial drive towards new types of dwelling, from the early white villas to the Unite d'Habitation at Marseilles; his evolving concepts of urban form, including the Plan Voisin of 1925; and his belief in a new technocratic order.
Frampton draws on the latest research to set Le Corbusier's work against the background of his complex personality.
The treatment is largely chronological, revealing the architect's development and his world-wide legacy.
It discusses the full range of his achievement, from realized buildings and the new Indian city of Chandigarh, to the messianic modernist publications in which he espoused his fervent belief in architecture as an agent of progress.
BIC: