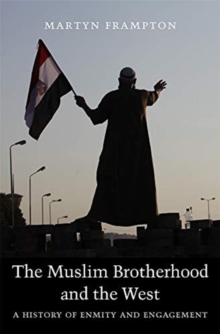 The Muslim Brotherhood and the West : A History of Enmity and Engagement
0674241665 / 9780674241664
A Foreign Affairs Best Book of the YearIn the century since the Muslim Brotherhood first emerged in Egypt, its idea of "the West" has remained a key driver of its behavior.
From its founding, the Brotherhood stood opposed to the British Empire and Western cultural influence.
Its leaders hoped to create more pristine, authentically Islamic societies.
As British power gave way to American, the Brotherhood oscillated between anxiety about the West and the need to engage with it, while American and British officials struggled to understand the group, unsure whether to shun or embrace it. The Muslim Brotherhood and the West offers the first comprehensive history of the relationship between the world's largest Islamist movement and the powers that have dominated the Middle East for the past hundred years.
Drawing on extensive archival research in London and Washington and the Brotherhood's writings in Arabic and English, Martyn Frampton reveals the history of this charged relationship down to the eve of the Arab Spring.
What emerges is an authoritative account of a story that is crucial to understanding one of the world's most turbulent regions. "Rigorous yet absorbing...Fills a crucial gap in the literature and will be essential reading not just for scholars, but for anyone seeking to understand the ever-problematic relationship between religion and politics in today's Middle East."-Financial Times"Breaks new ground by examining the links between the Egyptian Brotherhood's relations with Britain and...the United States."-Times Literary Supplement
BIC:
HBJF1 Middle Eastern history, HBLW 20th century history: c 1900 to c 2000, JPL Political parties, JPSD Diplomacy