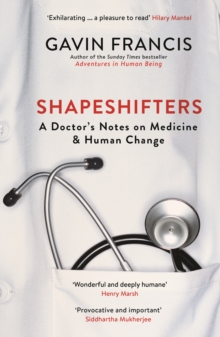 Shapeshifters : a doctor's notes on medicine & human change
1781257744 / 9781781257746
20 cm 281 pages : illustrations (black and white)
Professional & Vocational Learn More
Tertiary Education (US: College)
Reprint. Originally published: London: Wellcome Collection, 2018.
'Stylish and exhilarating... from a wide-ranging mind and a profound humanity... inspiring' Hilary Mantel'A wonderful series of meditations - clinical, anthropological, literary and deeply humane - on his patients and their illnesses.' Henry MarshTimely, thought-provoking and eloquent, brimming both with warmth and insight, he puts himself among the ranks of ...
Oliver Sacks and Atul Gawande.' The TimesUnreliable bodies and shifting symptoms are all in a day's work for a GP. In his years of practising, Gavin Francis has seen it all: the promising law student trapped under the spell of anorexia; the bodybuilder whose use of illegal steroids threatens his fertility; the teenager agonising over the perplexing physical dramas of puberty; and the surprisingly upbeat woman growing a horn in the centre of her forehead. In Shapeshifters he draws on his patients' bodily transformations, both welcome and unwelcome, bringing together case histories and accounts from the history of medicine, art, literature, myth and magic to show how the very essence of being human is change.
BIC:
MB Medicine: general issues, PSX Human biology, VFD Popular medicine & health