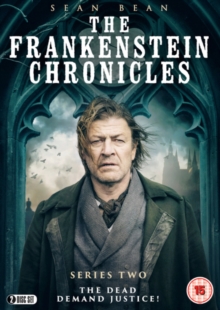 The Frankenstein Chronicles: Series 2
(15) Suitable for 15 years and over.
All six episodes from the second series of the TV drama set in 19th century London.
Sean Bean stars as Inspector John Marlott who is tasked with investigating a spate of recent crimes in the capital by Home Secretary Sir Robert Peel (Tom Ward).
His findings lead him to believe the prime suspect to be a scientist trying to reanimate the dead with his search becoming a race against time to prevent more lives from being claimed.
In this series, John escapes from Bethlem aiming to have his revenge and attempts to lay low by taking on a new identity.
The episodes are: 'Prodigal Son', 'Not John Marlott', 'Seeing the Dead', 'Little Boy Lost', 'The Marriage of Heaven and Hell' and 'Bride of Frankenstein'.