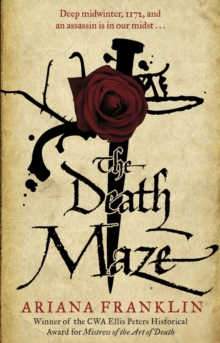 The death maze
0553818015 / 9780553818017
Reprint. Originally published: 2008.
'Wonderfully atmospheric, fast-paced and intelligent' GUARDIANTwelfth-century anatomist Adelia Aguilar must once again examine the dead as gruesome events are beginning to unfold... Henry II's favourite mistress, Rosamund Clifford, has been poisoned - and, rumour says, by his jealous wife, Eleanor of Aquitaine.
If Henry believes the stories, England will be torn apart as King battles Queen. In a race against time to prove Eleanor's innocence, and with a dangerous assassin on the loose, Adelia has never faced greater danger.
The armies that might cause civil war lie behind her.
The icy winds of a dreadful winter blow around her. And ahead she must brave the thorns of the impenetrable labyrinth that surrounds Fair Rosamund's tower, and decipher the mystery of the dead woman who lies frozen within. 'Highly entertaining . . . Franklin is an adept storyteller who disseminates her research into the period with clarity and lightness of touch' THE TIMES________Readers are gripped by The Death Maze:'The pace of the narrative kept the candle burning in a page turning frenzy!' *****'A brilliant, feisty female lead, highlighting the perils for women in medieval times.' *****'The author conjures up the lives and customs of the middle ages . . . an utter joy to read.' *****
BIC: