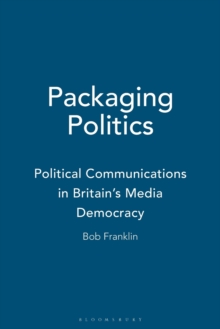 Packaging politics : political communications in Britian's media democracy (2nd ed)
0340761946 / 9780340761946
Stock expected by 19/04/2020
postgraduate Learn More
research & professional
undergraduate
Previous ed.: London: Edward Arnold, 1994.
"For current affairs readers it is excellent reference material.
For the teacher or student of media studies, it will become one of the classic text-books". - Professor Steven Barnett, writing in "New Statesman". "Packaging Politics 2nd Edition" examines the various ways in which politicians, spin doctors and special advisers, in political parties, in central and local government and in Parliament have become increasingly enthusiastic and effective in using mass media to present and promote themselves and their policies to the public.
Bob Franklin argues that packaging politics has potentially troublesome implications for the political process in a democracy.
Beginning with Government spin doctor Jo Moore's suggestion of September 11th, 2001 that 'its a very good day to bury bad news', Bob Franklin illustrates the extent to which politicians' determination to set the news agenda, to use media to inform, shape and manage public discourse about policy and politics, has become a crucial component of modern statecraft and systems of governance.This thoroughly revised, updated and authoritative study of political communications in Britain draws on interviews with key journalists and politicians and recent academic studies of general elections and political marketing, as well as official reports on special advisors, Government information services, Government advertising expenditure and party election broadcasts, to examine the changing character of political communications in Britain since the election of New Labour in 1997. "Packaging Politics 2nd Edition" is essential reading for students and scholars of journalism, politics and communications studies.
BIC:
1DBK United Kingdom, Great Britain, JFD Media studies, JPH Political structure & processes, JPVN Propaganda