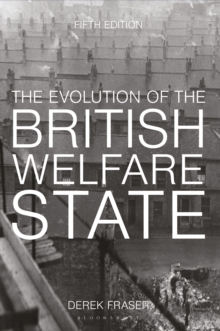 The evolution of the British welfare state : a history of social policy since the Industrial Revolution (Fifth edition)
113760588X / 9781137605887
An established introductory textbook that provides students with a full overview of British social policy and social ideas since the late eighteenth century.
Derek Fraser's authoritative account is the essential starting point for anyone learning about how and why Britain created the first Welfare State, and its development into the twenty-first century. This is an ideal core text for dedicated modules on the History of British Social Policy or the British Welfare State - or a supplementary text for broader modules on Modern British History or British Political History - which may be offered at all levels of an undergraduate History, Politics or Sociology degree.
In addition it is a crucial resource for students who may be studying the history of the British Welfare State for the first time as part of a taught postgraduate degree in British History, Politics or Social Policy.
BIC:
1DBK United Kingdom, Great Britain, 3JF c 1700 to c 1800, HBJD1 British & Irish history, HBLL Modern history to 20th century: c 1700 to c 1900, HBTB Social & cultural history, JKS Social welfare & social services, JPQB Central government policies