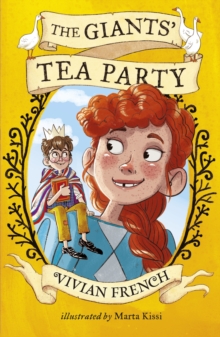 The giants' tea party
1406392588 / 9781406392586
20 cm 172 pages : illustrations (black and white)
A rollicking fairy-tale adventure from the makers of The Adventures of Alfie Onion, Tom & Tallulah and the Witches' Feast and The Dragon's Breakfast. "French is a skilled storyteller ... she reminds us how fresh a fairy tale can feel in the right hands." - The New York TimesPrince Max is on a mission.
The royal family are down to their very last penny, so the king and queen have sent him away to the valley of the giants - with only a grumpy old donkey for company.
According to legend, the giants are rich beyond all imagining: they live in gold palaces, drink from gold goblets and brush their teeth with gold toothpaste.
But are the legends true and, even if they are, will the giants be willing to share their treasure?
With the help of his donkey companion and Caromel, the talking cat, Max is about to find out. And he must keep his wits about him ... there are worse dangers than giants, lurking in the shadows! "French is a writer of tremendous charm, her world at once comedic and believable." - Literary Review
BIC:
YFC Adventure stories (Children's / Teenage), YFH Fantasy & magical realism (Children's / Teenage), YFQ Humorous stories (Children's / Teenage)