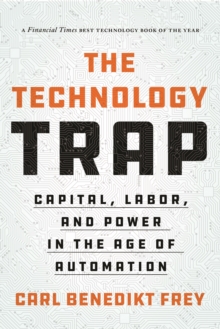 The technology trap : capital, labor, and power in the age of automation
0691210799 / 9780691210797
21 cm 480 pages : illustrations (black and white)
Reprint. Originally published: 2019.
"Made me look at the industrial revolution, invention, sleeping beauties, contexts and the forces that shape our societies differently."-David Byrne, New York Times Book ReviewHow the history of technological revolutions can help us better understand economic and political polarization in the age of automation The Technology Trap is a sweeping account of the history of technological progress and how it has radically shifted the distribution of economic and political power among society's members.
As Carl Benedikt Frey shows, the Industrial Revolution created unprecedented wealth and prosperity over the long run, but the immediate consequences of mechanization were devastating.
Middle-income jobs withered, wages stagnated, the labor share of income fell, profits surged, and economic inequality skyrocketed.
These trends broadly mirror those in our current age of automation.
But, just as the Industrial Revolution eventually brought about extraordinary benefits for society, artificial intelligence systems have the potential to do the same.
The Technology Trap demonstrates that in the midst of another technological revolution, the lessons of the past can help us to more effectively face the present.
BIC:
KC Economics, KCF Labour economics, PDK Science funding & policy, UBJ Ethical & social aspects of IT, UYQ Artificial intelligence