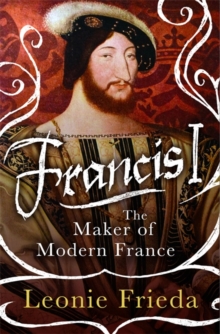 Francis I : the maker of modern France
0297852116 / 9780297852117
24 cm xxxiv, 352 pages : illustrations (black and white, and colour), maps (black and white)
Leonie Frieda became a bestselling author with her first book, CATHERINE DE MEDICI, which reprinted six times in hardback Marvellous reviews: 'A most fascinating picture of French court life. The political complexities are kept mercifully clear, the main lines of rivalry sharp, the characters vivid' - Anne Wroe, Daily Telegraph 'This masterful and compelling biography...narrative history at its best, both scholarly and as captivating as a thriller. She has brought a largely forgotten heroine-villainess and a whole sumptuously vicious era to life again' - Simon Sebag Montefiore, Mail on Sunday
Francis I was inconstant, amorous, hot-headed and flawed.
Yet he was also arguably the most significant king that France ever had.
This is his story. Francis saw himself as the first Renaissance king, a man who was the exemplar of courtly and civilised behaviour throughout France and Europe.
A courageous and heroic warrior, he was also a keen aesthete, an accomplished diplomat and an energetic ruler who turned his country into a force to be reckoned with.
Yet he was also capricious, vain and arrogant, taking hugely unnecessary risks, at least one of which nearly resulted in the end of his kingdom.
His great feud with his nemesis Charles V, the Holy Roman Emperor, defined European diplomacy and sovereignty, but his notorious alliance with the great Ottoman ruler Suleiman threatened to destroy everything. With access to never-before-seen private archives, Leonie Frieda's comprehensive and sympathetic account explores the life of the man who was the most human of all Renaissance monarchs - and the most enigmatic.
BIC:
1DDF France, 3JB c 1500 to c 1600, BGH Biography: historical, political & military, HBJD European history, HBLH Early modern history: c 1450/1500 to c 1700