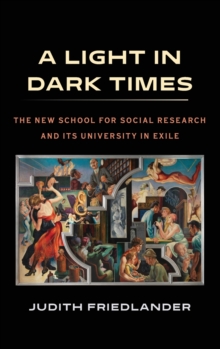 A light in dark times : the New School for Social Research and its university in exile
0231180187 / 9780231180184
25 cm xvii, 457 pages, 12 unnumbered pages of plates : illustrations (black and white)
The New School for Social Research opened in 1919 as an act of protest.
Founded in the name of academic freedom, it quickly emerged as a pioneer in adult education-providing what its first president, Alvin Johnson, liked to call "the continuing education of the educated." By the mid-1920s, the New School had become the place to go to hear leading figures lecture on politics and the arts and recent developments in new fields of inquiry, such as anthropology and psychoanalysis.
Then in 1933, after Hitler rose to power, Johnson created the University in Exile within the New School.
Welcoming nearly two hundred refugees, Johnson, together with these exiled scholars, defiantly maintained the great traditions of Europe's imperiled universities. Judith Friedlander reconstructs the history of the New School in the context of ongoing debates over academic freedom and the role of education in liberal democracies.
Against the backdrop of World War I and the first red scare, the rise of fascism and McCarthyism, the student uprisings during the Vietnam War and the downfall of communism in Eastern Europe, Friedlander tells a dramatic story of intellectual, political, and financial struggle through illuminating sketches of internationally renowned scholars and artists.
These include, among others, Charles A. Beard, John Dewey, Jose Clemente Orozco, Robert Heilbroner, Hannah Arendt, and Agnes Heller.
Featured prominently as well are New School students, trustees, and academic leaders.
As the New School prepares to celebrate its one-hundredth anniversary, A Light in Dark Times offers a timely reflection on the legacy of this unique institution, which has boldly defended dissident intellectuals and artists in the United States and overseas.
BIC:
1KBB USA, JNM Higher & further education, tertiary education