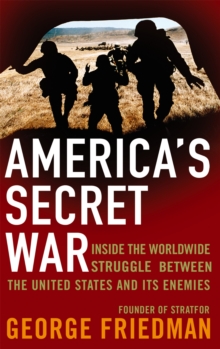 America's secret war : inside the hidden worldwide struggle between the United States and its enemies ([New ed.])
0349118922 / 9780349118925
Previous ed.: New York: Doubleday; London: Little, Brown, 2004.
George Friedman's company, STRATFOR (Strategic Forecasting), has received incredible accolades for working ahead of the news media and being right on the pulse of political and military action as it unfolds across the globe.
A private intelligence agency, it provides commercial organisations with the most up-to-date information about world events which they in turn use to assess their business options.
This incredible book, written by the founder of STRATFOR himself, details the secret battles and shock operations that have been taking place beyond the reaches of conventional information networks.
Drawing on a wide network of contacts in governments, intelligence agencies and military organisations throughout the world, AMERICA'S SECRET WAR will open readers' eyes to an astonishing world of covert operations that - praise it or fear it - is the nature of this US administration.
Compelling, surprising, written with all the pace of an action/adventure thriller, AMERICA'S SECRET WAR documents a terrifying world previously unknown to the general public.
BIC: