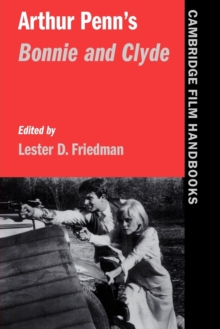 Arthur Penn's Bonnie and Clyde
0521596971 / 9780521596978
Usually dispatched within 4 weeks
general Learn More
research & professional
academic/professional/technical
Few films in the history of American cinema caused more intense critical discussion and greater emotional debate than Arthur Penn's Bonnie and Clyde.
This provocative portrayal of Depression-era life on the run, delivered with visual panache and a hip sensibility, ushered in what came to be categorized as 'the New American Cinema'.
Focusing on a story set in the 1930s, yet clearly fashioned to resonate with the countercultural tenor of the 1960s, the film remains compelling for today's viewers by virtue of its central love story and inevitable tragedy, its subversive statement as well as its sympathetic connection to the communal impulse.
This volume includes newly commissioned essays by leading scholars of Arthur Penn's work, as well as contributions from Penn himself and scriptwriter David Newman.
They analyze the cultural history, technical brilliance, visual strategies, and violent imagery that marked Bonnie and Clyde as a significant turning point in American film.
BIC: