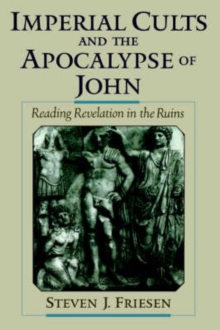 Imperial cults and the apocalypse of John : reading Revelation in the ruins
0195188217 / 9780195188219
Stock expected by 13/12/2019
Reprint. Originally published: 2001.
After more than a century of debate about the significance of imperial cults for the interpretation of "Revelation", this is the first study to examine both the archaeological evidence and the Biblical text in depth.
Friesen argues that a detailed analysis of imperial cults as they were practiced in the first century CE in the region where John was active allows us to understand John's criticism of his society's dominant values.
He demonstrates the importance of imperial cults for society at the time when "Revelation" was written, and shows the ways in which John refuted imperial cosmology through his use of vision, myth, and eschatological expectation.
BIC:
HRCG9 Bible readings, selections & meditations, HRKP Ancient religions & mythologies