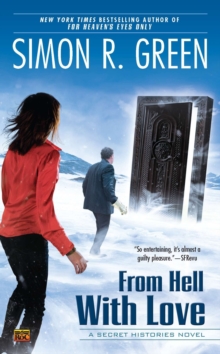 From Hell with Love : A Secret Histories Novel
0451464036 / 9780451464033
Usually dispatched within 2 weeks
"Take some James Bond and throw in some of Green's own Nightside, and mix liberally with the epic over-the-top action of his Deathstalker novels, and you're somewhere in the right neighborhood" (The Green Man Review) of this all-new urban fantasy mystery from the New York Times bestselling author of The Spy Who Haunted me…

            It's no walk in the bloody park, being a Drood—one of the family who has protected ordinary humanity from the things that go bump in the night for centuries. We're not much liked—even by one another. Now our Matriarch is dead. Murdered. Maybe by one of us. Maybe not. It's been left up to me, Eddie Drood, to figure out whodunit.
           
That's not going to be easy. You see, opinion is divided evenly between two camps of thought: those who think the killer was Molly, my best girl, and those who think the killer was actually me. And I know for a fact that I didn't do it.
BIC: