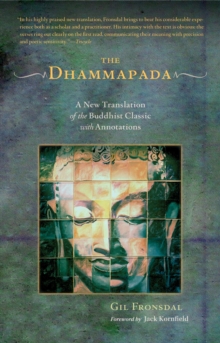 The Dhammapada : a new translation of the Buddhist classic with annotations
1590303806 / 9781590303801
"The Dhammapada" is the most revered sacred text in the Buddhist world.
Often attributed to the Buddha himself, these inspirational verses convey the fundamental Buddhist teachings.
For more than two thousand years, Buddhists of all traditions have relied on it as a source of wisdom and guidance.
Aside from its role in Buddhism, the "Dhammapada" is also important as one of the earliest collections of ancient Indian poetry.
Modern readers seldom realize that the Buddha and his disciples often used poetry to convey their teachings and their emotional inspiration with spiritual life.
Gil Fronsdal brings a unique understanding to this fresh new translation.
As a scholar and a long time meditator and an experienced Dharma teacher, he offers a depth of appreciation and reverence for the text that is informed by academic rigor.
Both accessible and accurate, this new translation of the "Dhammapada" is likely to stand apart from the others.
BIC: